About Us
History
During the mid 1960's growing out of frustration with the Romneys of the day, Border Leicester rams were put across the Romney flock. Heartened by the lift in performance and the easier care of the cross bred progeny, when the Coopworth Breed Society was formed in 1968, the Marlow stud was established.
Right from the beginning, the Coopworth Society required objective performance recording with selection and culling based on that measured performance.
Objectives
Marlow pursues the usual Coopworth objectives with a strong emphasis on growth, meat and survival. Breeding for facial eczema tolerance has been a high priority for 15 years and now all sheep are sired by rams passing the Ramguard test nil at 6. New technologies are employed such as ultrasound and CT scanning, EID tagging and genetic testing seeking genes of interest and identifying unwanted genes.
The aim is to maximise net sheep returns per hectare and head for this farm and for client's properties.
The Marlow stud is a member of SIL, New Zealand Ovine Sire Reference (NZOSR), FE Gold and a contributor to AgResearch's SNP, efficiency and survival research programmes.
About Us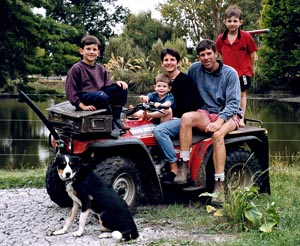 The stud is run by Steve Wyn-Harris with help from wife Jane and when at home, sons Jason, Hugh and Matt.
We live at 377 Hinerangi Road which is in the district of Hatuma. Takapau is 10km South West and Waipukurau 19km North by road.
The combined properties total 360ha with 319 being in pasture and the balance in forestry, tree crops and shelter.
We won the National Fieldays Drystock Farm of the Year in 1992, the Hawkes Bay Farmer of the Year title in 1994, the inaugural East Coast Balance Farm Environment Award in 2011 and the Hawkes Bay Farm Forester of the Year in 2013.
Steve has been a director of Landcorp and Farmlands, has been a weekly rural columnist for 24 years under the "From the Ridge' by-line and a broadcaster as host of the Cockies Hour on Central FM for the last 21 years. In 2012 he was awarded the Landcorp Agricultural Communicator of the Year. In 2014 at the Sheep Industry Awards he was awarded 'The Individual Making a Significant Contribution to the New Zealand Sheep Industry'.
Steve C.V.
Date of Birth; 30/05/59
Married to Jane with three sons
Qualification; Bachelor of Commerce (Agricultural) from Lincoln in 1985.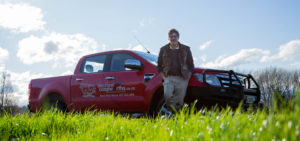 Career Experience; Farmer, broadcaster, columnist, director.
Farming
I began my farming career in 1985 with the purchase of a 180ha property in Central Hawkes Bay. We have added three other small blocks since then so that we now have 350ha. The properties carry high performance breeding ewes including a Coopworth sheep stud that uses the latest technology such as sire referencing, AI and gene identification. Bull beef makes up 40% of the stock carried. Fifteen % of the property is planted in forestry and areas of amenity and native plantings are scattered over all the farms. In my time I have planted 50,000 trees myself to better the environment.
Our farm was a monitor farm for four years in the early 2000's for Meat and Wool NZ which involved technology transfer to fellow farmers.
Awards
1986: Won YFC National Debate title and best speaker at the debate.
1987: Won YFC National Speech contest.
1992: Won the NZ National Fieldays Society's "Drystock Farmer of the Year".
1994: Won the "Richmond Hawkes Bay Farmer of the Year".
1998: Won the East Coast Final of the FMG Award of Excellence (AC Cameron).
1999: Winner of a Hawkes Bay Regional Council Environmental Award.
1999: Won the Grassland Memorial Trust's Farming Award for excellence in dry hill country farming.
2001: Finalist in Columnist of Year at the Qantas Media Awards.
2011: Jane and I won the inaugural East Coast Ballance Farm Environment Supreme Award as well as the 'PGG Wrightson Land and Life' and 'Beef + Lamb NZ Livestock' section awards.
2012: Awarded the Landcorp Agricultural Communicator of the Year.
2013: Hawkes Bay Farm Forester of the Year.
2014: Individual Making a Significant Contribution to the NZ Sheep Industry at the NZ Sheep Industry Awards.
Corporate Experience
Appointed to the Landcorp Board in April 2002 for a two year term. Reappointed in 2004 for a three year term and again in 2007 for the final year which concluded April 2008. Director of subsidiary companies Landcorp Investments (wound up 2004) and Landcorp Pastoral. Served on the remuneration committee.
Elected to the Farmlands Board November 2003, re-elected in November 2006 and 2009. Finished with the company in November 2012 after nine years. Farmlands is a rural retailer covering the North Island during my time and is now national and is a Cooperative. A member of the governance committee, remuneration committee and as a member of the appointments committee was involved during December 2006 with the interviewing, short listing and appointment of a new CEO for the company and subsequently with appointing independent shareholder directors. During 2012 I was actively involved with the potential merger with CRT being one of the three person establishment committee.
Currently a director with Fund Managers Central Ltd which runs the Midlands Mortgage Trust.
Writing
I began writing a weekly column in the NZ Farmer in 1996 until the paper closed in 2001. The Straight Furrow, another rural national paper took me on at that point and I wrote a fortnightly column until May 2006 at which stage I began writing weekly again for NZ Farmers Weekly which is a national rural paper and now owned by NZX with some 130,000 readers.
The column runs as "From the Ridge' and has had an unbroken run of 24 years to date.
Broadcasting
Since September 1998 I have hosted and produced a rural radio show on Central FM, a Hawkes Bay based radio station, for an hour long rural programme twice a week. The role involves locating and organising eight interviewees each week, interviewing them usually live and at the same time managing the technology and broadcast itself.
Have done a weekly slot on The Farming Show on Radio Sport covering farming, politics and sport for twenty years and a contributor to Jesse Mulligans radio show on RNZ.
In April 2020, along with a partner, we bought the radio station, Central FM.
Community Involvement
From 2000 to 2004, my property was a Meat and Wool Monitor Farm where technology and farming practices are disseminated to the wider farming community.
Discussion groups and individual farmers still come to visit the properties to view progress. Our property is also used as a 'show farm' to promote a positive view of NZ agriculture with visits from the likes of foreign journalists and visitors, supermarket meat importers and politicians including four cabinet ministers and featured on Country Calendar in 2012. I've been invited to present to conferences in Tasmania and Mexico on NZ agriculture.
I am currently chair of NZ Ovine Sire Reference and have been a councillor on Coopworth Genetics NZ.
Between 1998 and 2004 I was on the Takapau School Board of Trustees, the last three years as chairman.
I have been on a large number of committees, often as chair.
Recent community involvement has revolved around coaching and managing several school sports teams of various codes. Currently on a rural suicide prevention committee and a member of the Hawkes Bay drought committee.
In 2015 appointed chair of the East Coast Region for the Ballance Farm Environment Awards.